Michael Pearl's "God" Wrote the Ten Commandments With Runes!
The Bible states that God wrote the two tables of testimony, tablets of stone with his own finger:
"And he gave unto Moses, when he had made an end of communing with him upon mount Sinai, two tables of testimony, tables of stone, written with the finger of God." (Exodus 31:18)
This biblical event, which is pictured on page 72 of Michael Pearl's graphic bible, Good and Evil, is blatantly marked for Satan. It is a mockery of God and his holy word.
Michael Pearl's Good and Evil graphic bible portrays his god writing the Ten Commandments with magickal symbols -- RUNES! Runes are used in witchcraft, especially divination and magick. (See footnote.)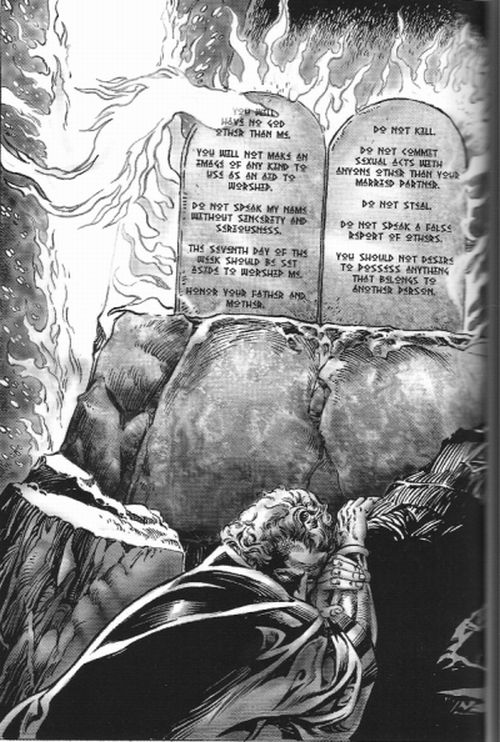 Good and Evil, page 72 Copyright 2006 by Michael and Debi Pearl of No Greater Joy Ministries
(Click here for a close-up of Mr. Michael Pearl's rune-leavened ten commandments.)
Below are RUNES Michael Pearl used in place of the English letters: "E," "D," "O,", "C," "P," and "S." These runes are found on page 72 of Michael Pearl's book, Good and Evil.

This is a Barddas rune.
For documentation see: http://www.geocities.com/SoHo/Lofts/2763/witchy/alphabets.html

This is also a Barddas rune.
From a Welsh druidic text, The Barddas) For documentation see: http://www.geocities.com/SoHo/Lofts/2763/witchy/alphabets.html
Elder Futhark Ingwaz rune
This rune means, among other things, "erect phallus, fertilizing power." (For documentation see: http://the-oracle-answers.com/runes/futhark.php#sowilo and http://www.sunnyway.com/runes/meanings.html#ingwazm and see: )

Elder Futhark kenaz rune
(For documentation see: http://www.sunnyway.com/runes/meanings.html#kenazm)

Elder Futhark Thurisaz rune
For documentation see: http://www.sunnyway.com/runes/meanings.html#thurisazm

Elder Futhark Sowilo rune
http://the-oracle-answers.com/runes/futhark.php#sowilo
(1) Runes are an ancient Germanic alphabet, used for writing, divination and magick. http://www.sunnyway.com/runes/intro.html
A rune is not merely a letter in an old Germanic alphabet, but it bears the primary definition of "secret" or "mysteries." http://wiccanone.org.uk/alphabet2.html
A Runic letter is "any character from an ancient Germanic alphabet used in Scandinavia from the 3rd century to the Middle Ages"; "each rune had its own magical significance" http://wordnetweb.princeton.edu/perl/webwn?s=rune
Also see: "I" Font on Good and Evil Cover Shaped Like an Upside-Down Cross
Return to: WARNING! No Greater Joy Ministries: Occult Markings -- INDEX PAGE