"I" Font on Good and Evil Cover Shaped Like an Upside-Down Cross
The first publication of Michael Pearl's Good and Evil book had a black and white cover. The words, Good and Evil were made with the DreamScar font. This gothic font arrested my attention the moment I saw the cover of Good and Evil because the "I" looks like an upside-down cross! Considering the thousands of fonts easily accessible on the internet, I question why a font with an "I' that is shaped like an inverted cross (a satanic symbol [external site] that is on the back of the Pope's chair) was chosen for the cover of Michael Pearl's illustrated bible, Good and Evil.

What Does the Upside Down Cross Mean?
Satanist symbol. Symbolizes mockery and rejection of Jesus Christ.

(Quote source: Witchcraft Symbols http://www.spelwerx.com/witchcraft_symbols.html)
Also, why did No Greater Joy select for the cover of their illustrated bible a font that has an "O" with a triangle inside? This is reminiscent of point within the circle symbolism, which they used on Michael Pearl's Eight Kingdoms book. (A circle around an equilateral triangle is an occult symbol.)
Examine the images below and compare the DreamScar "I" font to the upside-down cross. Note the similarity.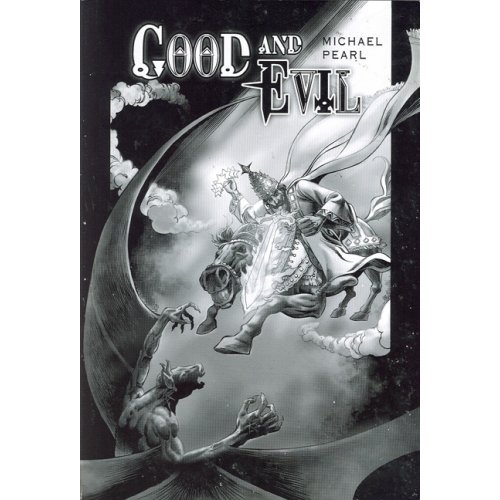 source of Good and Evil cover image: http://www.amazon.com/gp/product/1892112388/ref=pd_lpo_k2_dp_sr_1?pf_rd_p=304485901&pf_rd_s=lpo-top-stripe-1&pf_rd_t=201&pf_rd_i=0679724656&pf_rd_m=ATVPDKIKX0DER&pf_
rd_r=1Q1H716NVMKN603S4Q8S
source of Dream Scar "I" font image: scanned from cover of Good and Evil source of upside down cross iron on patch image: Inverted Cross Merchandise http://www.imosh.com/SATANINSIDE/pages/INVERTEDCROSS.htm
Return to: WARNING! No Greater Joy Ministries: Occult Markings -- INDEX PAGE